Art projects

︎︎︎ Wild Cards


WILD CARDS

are tools for imagining.



WILD CARDS

are instruments for thinking, for feeling, for dreaming, for planning.



WILD CARDS

are for making connections, getting un-stuck, and finding pleasure in the unexpected.

▲ ✐ ◑ ✞ ✪ ✿ ➭ ❄ ♪ ❖ ✆ ☾ ♢ ≈ ♥ ✂ ∞ ⚄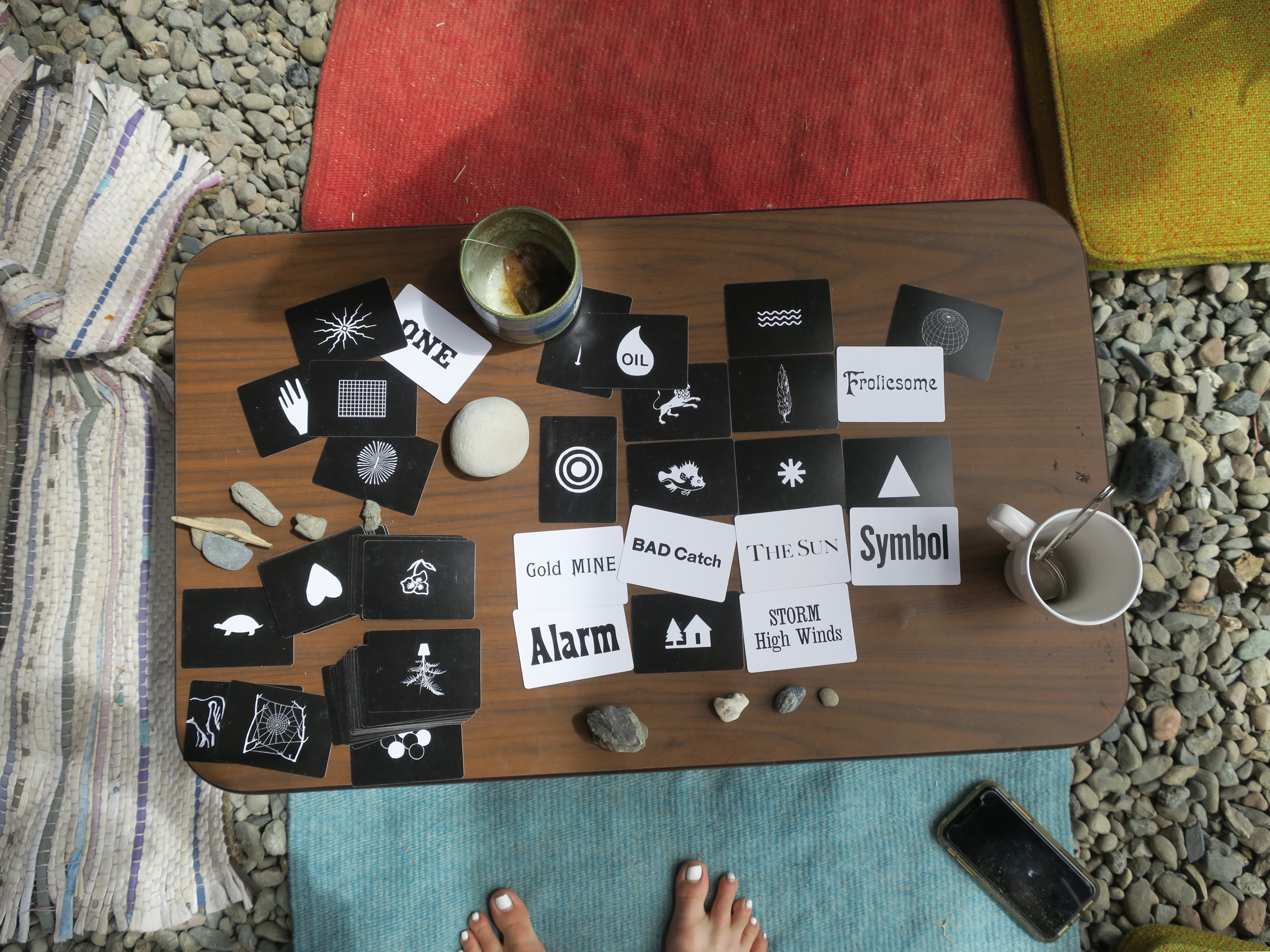 DETAILS:
126 double-sided cards
100% appropriated words and images
Smooth coating and textured linen finish
Risograph printed prompt sheet
Soft hand-dyed 100% cotton drawstring bag to keep it all safe

WILD CARDS are released periodically in small batches. Please follow @nicolecameraphone and/or @wild__cards on Instagram to be notified of future drops! ☻


---
Q: How do I use Wild Cards?
A: However you'd like!
Inspire
— Use one or more cards as a creative prompt to start an exercise in writing, drawing, breathing, improvisation, movement, collage, sculpture, or song.
Listen
— Draw a card in the morning as an oracular practice, see how it informs, directs, or helps you set an intention for your day.
Assemble
— Make a poem or story with words and images, choosing the cards that work best.
Associate
— What connections do you see between two randomly-pulled cards? Between the image and text on a single card?
Learn
— Use as flashcards for reading, counting, matching... Kiddos, what does this one say? How are those cards alike? Find me all the round things.
Caption
— Offer an image or text caption to a photograph, a sculpture, an altar, or another small, everyday moment.
Sort
— Make piles of cards, using your own methods of categorization. Sort thematically, sort intuitively, sort with that gut feeling. This can be very meditative.
Reflect
— Browse the deck to find a card that jumps out to you. Why did this one grab you? What about its poetry speaks to you?
Seek
— Ask the cards a question, pull one randomly, and try to interpret an answer from the card. Don't like the answer? Pull until you get a card you do like, and see your intention revealed.
Play
— Use the cards to play mad libs, solitaire, go fish, slap, gin, poker, or a bootleg version of Apples to Apples or Cards Against Humanity… apply the rules the best you can and see where the game play takes you.
Communicate
— Use the cards in an icebreaker exercise, to start a difficult conversation, or employ them as tools to work through a conflict.
Practice
— Use the cards to practice reading, translation, or oration. Fun for kiddos!
OTHER QUESTIONS?
Where do the images and type come from?
Everything is appropriated! The images are icons and illustrations gathered from early 20th-century children's schoolbooks. The words and phrases were all carefully selected from 20th-century typography specimen sheets. Many were lead type, some were wood type.
Will my mom / boyfriend / kid / cousin / co-worker like the Wild Cards?
Yes.
Can I do wholesale at my shop?
The profit margin is soooooo slim that I sadly cannot offer wholesale at this moment.